I am slowly, then in big bursts, like today, working on moving some of my blog articles to this site for my own record of what I've written. I blog on a SDA homeschooling site, and this is another of the articles I wrote for them a couple of months ago.  I must say that we keep adding to this list of excellent reading material! So, I have added a couple more to this list!
http://www.sdahomeschools.org/find-me-a-good-book/
What homeschooling family doesn't love to gather 'round and snuggle down with a good book? Every family I have come across, especially ours, loves the family reading hour. For us, evening worship time is our best time to relax with an uplifting story. Loving good books is certainly not limited to homeschoolers! When I was growing up, I remember many cozy evenings gathered in the living room, listening to Mom read. It is one of my most cherished family memories.
In our home, we have chosen to follow the counsel given us in Philippians 4:8…
Whatsoever things are true,
whatsoever things are honest,
whatsoever things are just,
whatsoever things are pure,
whatsoever things are lovely,
whatsoever things are of good report;
if there be any virtue, and if there be any praise, think on these things.
With that in mind, we have an easier time choosing books than we used to. If we have a question about a book, if it first passes the "Is it true?" question, then that helps us right away to know if it should stay in our stack. Not all true books are uplifting, though, so we have to judge the story by the other criteria as well. Noble, of good report, praiseworthy…all of these are goals for reading material that will help to put good thoughts into our minds.
Our family is not the authority on good books, but because we have read so many wonderful stories, I thought it might be nice to share some of our all-time favorites, so that you may expand your libraries or remember an old favorite that we also enjoyed.
Here are some of the stories we have enjoyed that we have given ten thumbs up! These are listed in no particular order.
(When I share a source, it's just one place where you can get these books, not necessarily the best. I only linked sites that either had several of the series, or that had reviews and a description of the books for you to see. I normally buy books off of amazon.com if I can, just because it's easy, and we get free shipping. But, I normally look around for the best price. The links I provided are not always the best price. We get some books on Kindle, and listen to many on audio.)
Paula the Waldensian, by Eva Lecomte, available here. This is my husband's favorite. It is a wonderful story of a young girl who ends up witnessing for her faith within her extended family after her father dies. Her character is what makes this book so inviting. Good for everyone, all ages. Our boys liked it. I think a girl would really enjoy it.
Tip Lewis and His Lamp, by Pansy,  available here. This is the one book on this list that we read upon recommendation of someone that I trust, and then I found out that it is maybe fictional. I don't put this in the category of most fiction, and maybe I'm just rationalizing things, but I still put this book up among our recommended ones. It really has deep themes and comes from the point of view of a young boy-turning-youth who struggles with anger, conversion, and his walk with the Lord. We read it every couple of years, and it is very good for contrasting the eternal realities from the trivial things we commonly focus on.
Dare to Stand Alone, by Bradley Booth, available here. This book will amaze you! It is the story of a young man (18 yrs old) who stands for Jesus in the Russian army, amidst pressures to conform. If you want to see how God honors those who honor Him, read this book! Every youth should read this one!
The Seventh-Day Ox, by Bradley Booth, Kindle version here. This is another one of how God shows His power. A Russian pastor is imprisoned for his faith, and God uses him as a witness, and also uses an ox to teach about the Sabbath. This book does relate how the man was made to suffer beatings, so keep that in mind before you hand it over to your child. It's good to read these kinds together so that you may discuss it as a family. The book does not overly focus on this, but it is just something to keep in mind.
The Unlikliest Hero, Desmond Doss, available under a different title here. Almost everyone has now heard of the story of Desmond Doss. If not, Desmond was a soldier who served as a medic during WWII, where he held to his convictions on the Sabbath and not carrying a weapon. This is a good book that tells about his life, as told by his second wife, Frances. It's good to hear about real heroes.
Jungle Doctor Series (19 in all), by Paul White, full set available here. (This series is much cheaper if you buy it through Library and Ed.; see below) We really love this set. You can buy them one at a time off amazon.com or similar, or get the whole set for a good discount. Paul White was a medical missionary (non-SDA) who worked in Africa in the 1960s. He shares insight into the culture and how to reach the local people. That aside, these books are just plain FUN! We laugh so much, but learn so much at the same time! Don't let the funny covers fool you — this series has depth. These books are different than any I've read before, and it takes a little bit to understand them, but then you'll be hooked! The doctor takes a medical diagnosis and describes it in the beginning of the book. Each book focuses on one particular tropical disease, like malaria. Then, through the story you begin to understand much more about the disease by seeing how it affects people. Also woven into the story line (and these books are taken from his experiences in clinical practice) is a moral/spiritual lesson that is really impressive. The characters in the books learn through their own mistakes/trials lessons that help them to see God's character more clearly. I highly recommend these books.
Little House on the Prairie Series, by Laura Ingalls Wilder. Everyone knows about the Little House books, and they are classics! Our favorite is probably Farmer Boy, as we have a household of boys, but we really enjoyed them all. There is just something within us all that resonates with the simple life that these books portray.
One Miracle After Another, by Pavel Goia, available here. If you have not read this book, GET IT! If you want to see how God answers prayer, read this book! You will be amazed and awed at our wonderful God! And you will be challenged to trust Him more as you see how one man had his faith rewarded over and over again! This book will engage all ages, not just older folks!  (The very first chapter mentions a scene that he witnessed that you may want to skim over and skip if you think your kids aren't ready for it. It's not inappropriate, just more mature.)
Guide's Greatest Series, various authors, available here and amazon.com. These books contain short stories that are really great for a short worship. They are easy reading in my opinion, so if your kids are just getting into chapter books, these would be a good choice. There are so many to choose from — angel stories, mission stories, animal stories, rescue, Christmas, escape from crime, and just many topics! Our kids love them! We don't currently read the Guide, but these are classic stories from the early years.
Christian Heroes, Then and Now Series, by Janet and Geoff Benge (favorites within this series are Nate Saint, Jim Eliot, Amy Carmichael, and Jacob DeShazer), available here on YWAM website. The list of famous Christians in this series is quite impressive, and these are kid-friendly biographies that make good read-alouds. These also are good for kids who enjoy chapter books, although I consider them to be more advanced. These are probably good for fifth- to eighth-graders, I'd say, but that's just judging from my own boys, who don't whip through books in one night. We sometimes listen to these on an audiobook, because many of the books have been made into audio format. This helps us on long car trips, or just while running around town, to learn some history. I don't know if it's just me, but once I listen to or read a bunch of these, I start getting bored with the style of writing in them. That's not saying they are boring to listen to per se, but I have a hard time, because the format is similar in many of the books, and I find that I drift off mentally toward the final chapters in some. The solution is to pick stories that you know have an exciting ending, if you know anything about the lives of the people! My kids do enjoy these books, and we have read many.
A Song for Your Honor, by Kay Evans, available here. We are just finishing up with this one! I bought the book after reading the description, and I believe this book addresses a fear many homeschoolers have — that of someone reporting them to the authorities. I sped through this book myself; then we sat down to read it as a family. My family didn't want me to stop, but that happens when you get a good book! I will say that this story has excitement and adventure, but the element that makes it stand out for me is the solid faith and closeness that this family demonstrated through their heavy trials. This book is one that I thoroughly recommend, as does my whole family. Be prepared to see God's hand in the affairs of the fatherless and widows.
Anything by Norma Youngburg — Singer on the Sand, Jungle Thorn, Miracle on the Mountain, Nyla and the White Crocodile, Taught by a Tiger,  available here. All are missionary stories appropriate for all ages. These are especially interesting for Primary aged children, but, honestly, we all love these stories!
Evidence Not Seen, by Darlene Deibler Rose, available here.
Peace Child, by Don Richardson, available here. *Warning!* This book is rather graphic in the first few chapters, and I would only recommend this as a read-together book for older children, as it describes how a cannibalistic tribe operated before learning about Christianity. But, it is an excellent example of how one missionary related to his local culture group.
Robby the Robin, by Velma Craven Meyer, available here. A wonderful story about a friendship between a baby robin and his adopted family. We really love this book!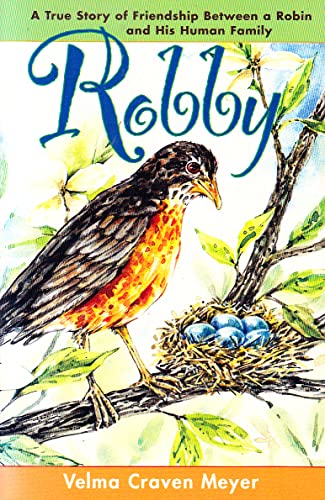 The Sam Campbell books, available here as well as many other places, used or new. These are classic stories of a naturalist who lives in the North Woods and befriends all kinds of wild animals. Funny and endearing stories that everyone loves! I probably got ours from the ABC, but you can find many used copies. Interestingly, I've heard there are an "Adventistized" set, and a standard set. From what I've heard, maybe the SDA-ized set skips references to smoking and coffee. I don't know how to verify this, but it's just what I've heard in the homeschooling circles.
A Thousand Shall Fall, by Susi Hasel Mundi, available here. This is a very good book, taken from WWII, about a Adventist father who was drafted to serve in the German army. He stayed true to his convictions on the Sabbath and would not kill nor carry a gun. God tremendously blessed him and his family for their faith. We listened to this on the audio CD set available at the ABC. It is a real page-turner, and very inspirational! (There are references to where women and girls were raped by the enemy soldiers, stated matter-of-factly, and, again, demonstrating how God preserved His faithful.)
The Hiding Place, by Corrie Ten Boom, available here in many formats. We listened to the Audible audiobook of this, and I highly recommend it — highly! This is one of those books that will move you to tears and challenge your faith, as you see a family truly seeking to follow God, no matter the cost. And, it did cost them dearly. If you don't know the story, it is about a family from Holland who hid Jews in their home during WWII, and ultimately got caught and put into concentration camps. The story follows Corrie and her sister, Betsy. This is heavy material, but we listened as a family and discussed everything together, and I totally believe that it is appropriate for children above maybe 10, if you feel they are prepared to handle the stark realities of war.
No Heil Hitler, by Paul Cieslar, available at the ABC. Here is a review from the Adventist Review. This is another WWII era book, about a boy from Poland and his family's faith. As with all books in this was era, I recommend parental reading of this book together, so you can discuss questions your child may have. We did enjoy this one as well.
Saving My Assassin, by Virginia Prodan, available here.  Wow. Just WOW. I can't spoil the surprise, but we could not stop listening to this one. We got the Audible audio book, and it was done nicely. The power of God is shown so clearly through this woman's testimony.
Ten Peas in a Pod, available here. This is an excellent book about a family some years ago, who lived a very unusual life of traveling around the country, singing, preaching, and witnessing as a family. This book really will inspire you to read and memorize scripture more faithfully, as the children in this family were encouraged to memorize large portions of the Bible. This is a very good book.
Brother Andrew — God's Smuggler, available here. This is another must-read! Brother Andrew risked his life time and time again to get the Bible into countries where it was illegal. His faith, and God's provision for him, is amazing!
Mary Jones and Her Bible, available for free PDF download here, many versions available here. We printed and read the PDF from Temkit, so I'm not sure which book on amazon.com is the official version, but I'd say that they all would be inspiring to read. This book tells the story of a Welsh girl who saved and saved until she could get enough money to buy a Bible in her language, which was a very rare thing in those days. It also tells about how her life was changed after having obtained it. This is an old story, but well-worth the time to read it!
Tiger and Tom/The King's Daughter, available here, and if you scroll down, you will see more in the Character Classics Series, which are all excellent. These are written toward boys and girls, respectfully, but both books contain excellent older stories that I think are great for boys and girls both.
The Miller Series, available here. This series is about a sweet Mennonite family, and each story has a character or moral lesson. I find that these simple stories are refreshing.
There are almost endless places to find good books! So, me listing a few here is just a starting point. I just wanted to mention a few that maybe some people have not heard of. A quick Google search will bring rewarding results, if you just know where to get started.
Some sources:
Library and Educational Services — If you are not aware of this resource,you might want to check into it. This site offers reduced-priced books to libraries, schools, and educators. You have to create an account, and choose homeschool as your category, then you may browse the catalog. Particularly complete sets of books are much cheaper here than most places I've seen for new books. The Blue Bible Story books, and My Bible Friends, Jungle Doctor series, Sam Campbell, and many others are offered at very good prices. They also have audio CDs.
Temkit — This is a website with tons of treasures! You could let you child log onto it and they could stay busy for hours (not that you're going to let them) but would find everything uplifting. This site has many PDF stories and old classic reprints that you can read. It is conservative Adventist. We have find many gems here.
Stories for Children — website. This site has a ton of stories that are old classics with moral lessons. Very good stories here.
Rod and Staff/Milestone books — storybooks here  The books you find here are very rural oriented and maybe somewhat old-fashioned. Maybe that's why I like them. There are many to choose from for all ages, and the websites are organized by age to make it easier to navigate.
And I almost forgot to mention the obvious places. The Adventist Book Center, LMN Recources, Orion Publishing, and I'm sure many others, have wonderful selections of books to read!
So…with so many to choose from, the only problem now is where to begin! Grab a good book and get started!